Reading Time:
9
minutes
"This year, you shall make Christmas cake", shouted loud and clear the picture on my spanking new copy of Skye McAlpine's A Table for Friends­ (@BloomsburyCooks). I reviewed the book back in July (see review), have made many recipes since and love how unfussy they are and the little menu suggestions.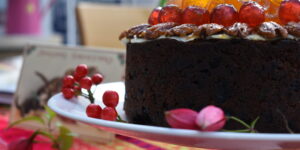 How I came to live twenty years in the UK without this cake, I couldn't tell you. I don't watch the Great British Bake Off very often, but there are other explanations. For instance, I always travel back home for Christmas Eve and the New Year. The cake perhaps hides with all those industrial birthday cakes that I blank out, because mine were lovingly made by my mother. I only spent one Christmas in the UK with my au pair family and only remember Christmas pudding, which I do buy every year. Finally, in Christmas get-togethers with friends and students, we generally eat other cakes.
So, what's it all about? If you're not British, you might not know that Christmas cake (pictured above) and Christmas pudding are two different cakes, with similarities. You can find the technicalities in this article: differences between Christmas cake and Christmas pudding.
What I have here is a collection of personal accounts from my Facebook foodie translator community. I asked them if Christmas cake was perhaps an American thing and if they ate it at home and, if not, why; and I learnt lots! If you're only interested in the recipe, skip to that, but you'd be skipping some great cultural insights. Whether you're embarking on a cultural trip or recognising yourself, enjoy!
Christmas cake or pudding?
"We have both Christmas pudding and Christmas cake in the UK. I used to make both but stopped a few years ago as my sons weren't really keen on either. Now, my sister makes two Christmas cakes and gives one to my parents, who love it. Lasts them until Easter! I adore the marzipan but get sick of the cake way before Easter, they are delicious in small doses." (Claire)
"Christmas cake really does last until Easter! My mother used to bake cakes and cookies to send to me and my children – who much preferred the fudge, Mexican wedding cookies and ruggelach that came in the same package." (Catherine, UK)
"It's definitely traditional to have both Christmas cake and Christmas pudding. I don't make a Christmas cake though as no one's a big fan in my house and I don't want to eat it all myself! I made a yule log last weekend which my children decorated but it only lasted a day…" (Catherine, UK)
"Both pudding and cake have been made in my family (my mum's and mine as well as my husband's parents) and we live in England. Christmas pudding (I make 3 every year) store very well and is eaten after dinner as a pudding with rum sauce. Whereas the cake is a rich fruit cake (I make 2 very large cakes every year) and we eat these through January once all the festivities are over. I also make mincemeat to make the pies – and we tend to have those on the run up to Christmas. I love the tradition that I've inherited from my Nana and Mum – and my kids love all the puds, pies and cakes." (Gill, UK)
"In terms of why we "need" both and where they fit in: Christmas pudding is a dessert eaten after lunch or dinner. There might be a long interlude between the meal and the dessert (a long walk, a film) but it still counts as dessert. Christmas cake is more a snack. Mid-afternoon, late at night, breakfast …. Sherry trifle is a dessert when it's served for the first time and then the leftovers are random snacks that can be eaten at any time of the day or night." (Sarah, Ireland)
"Yes, a slice of (Christmas) cake is often offered to visitors along with an assortment of biscuits and shortbread and a drink." (Yvonne)
"Yes, the cake is for when people drop by for cake and tea/coffee." (Rose)
"In fairness the cake would be out at breakfast time because the people who had porridge with whiskey and cream at six a.m. would be well ready for their elevenses by the time other people roll out of bed at ten or eleven." (Sarah)
"In Ireland it would NOT be Christmas without both Christmas cake AND pudding. I love both and have made them in the past but in recent years our gathering has been smaller, so I have bought smaller ones. My sister is the only one of our gang who liked neither cake nor pudding! So, she got a bit of flan or fruit salad instead.
I could easily eat both Christmas cake and pudding every single day!! We also had Marble, and Madeira cakes and Oxford Lunch cakes at Christmas too. Plus tins of biscuits and chocolates and sweets and toffees. Really a week-long feast. Actually not officially over in Ireland until the Epiphany on the 6th January AKA "Women's Christmas" or "Little Christmas" (Yvonne, Ireland)
"We, my English/Irish family have both, and a chocolate log. The cake tends to last till at least Easter. The log goes down in one. Oh, and my mum's huge sherry cake for New Year, which may explain why the Xmas cake lasts forever." (Rose)
"We always had both, as did everyone else I knew (this was in Manchester). Nowadays, my family likes neither, so we usually have a very untraditional chocolate cake or a fruit Pavlova. We also don't like turkey, so we just have chicken – with traditional Northern bread sauce, which my Southerner husband refuses to eat." (Caroline, UK)
"I need to get hold of the family Christmas pudding recipe from my mum… we never had Christmas cake though." Rachel adds, "It was the fact that nobody had room for it on Christmas day really". (Rachel, UK)
Apparently, traditional Christmas cakes are an endangered species, so I can say I've done my bit to revive them!
Christmas cake and weddings
"Note that wedding cakes have similar ingredients and a piece of them is kept for the christening of the first child!" (Yvonne, Ireland)
Favourite ingredients and recipes
"Our Christmas cake would always be full of mixed fruit, whiskey poured over the cake 3 or 4 times as it matures, and the almond icing and royal icing done a few days before Christmas. Supposed to last for months but, in my house, it only ever lasted a few days when we were young. Our puddings usually have Guinness in them and also some whiskey with brandy poured on and set alight when being served." (Yvonne, Ireland)
"Yes, Guinness and rum in my pudding too! And I always did Delia Smith's Christmas's cake." (Claire, UK)
Christmas cake decoration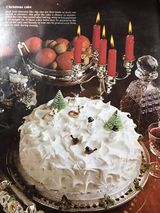 "I've flat-iced them, done snow scenes and done marzipan (always homemade) with glacé fruits and nuts over the years, but stick to Stollen and mince pies these days." (Claire Cox)
Christmas cake connotations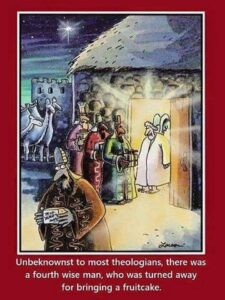 "The joke has it that there's only one fruitcake in the country and it's re-gifted year after year because no one wants to eat it." (Sharon)
"There was a shop near us that used to sell homemade pudding by the slice during the month of December and it was a real treat when my mother bought us some."
"Pudding is lovely warm, the slices my mother used to buy in the shop, on Usher's Island, as a treat were eaten straight out of the wax paper, cold, coming back over Church St bridge and gone before we got home so the other savages (AKA siblings) didn't know!! Yum."
"Our puddings usually have Guinness in them and also some whiskey with brandy poured on and set alight when being served. Loved that as a child as it made me feel grown up and was really quite a spectacle!"
(Yvonne, Ireland)
"Coming in from howling wind and cold driving rain to pudding is great. You can change into dry clothes and find your slippers and get the fire going and turn the heating on while the pudding is heating up and then you have something warm to tuck into as you cower under your blanket and listen to the gales. I could repeat that routine pretty much on a daily basis until the pudding is gone (a more likely outcome on the West coast of Ireland than the rain or the wind stopping). I would eat Christmas cake no matter what (even in Australia, say) but pudding has rib-sticking qualities that are especially well-suited to certain situations. It's cold-ish where I am now in Germany, but I miss the vicious wind chill from Viennetta Country." (Sarah, Ireland)
Christmas cake pairings
To butter or not to butter? Butter or cheese? That is the question. I told you when I made quince paste in January that "dulce y queso sabe a beso"! This is how our little Christmas play went. I'd read it aloud!
Curtains open. The air is hot.
– "Don't bring the Yorkshire contingent in – they'll add Wensleydale!", starts Claire.
– "It's one of those combinations that shouldn't work but is actually rather nice", adds smug Sarah.
– "I do usually have butter with fruit cake, but not with icing and marzipan!", sniggers Claire.
– "I suppose they do go dry after a while…", tries Pili.
– It's more the salty hit, because the cake isn't moist. I wouldn't put unsalted butter on Christmas cake. I can see where Timothy is going with the cheese. (corrects Sarah)
– "Christmas cake should ALWAYS be served with cheese. Preferably Wensleydale or a mature cheddar", proclaims Timothy all puffed up.
– "Ha! Not on the other side of the Pennines it shouldn't!", retorts Claire.
– "There's another side of the Pennines?, sneers Timothy.
– "A couple of years ago, I read about a regional British custom of eating Stilton with fruit cake. I tried it with a milder artisanal blue cheese, and concluded it was pretty good, but would have been better with the Stilton", contributes Kathryn.
– "My late father-in-law who originally hailed from Yorkshire used to eat Christmas cake with a slice of strong-flavoured blue cheese on top – Stilton or Dorset Blue. I remember thinking it really strange at the time!", ponders Louise.
Curtains close. The room goes quiet.
Christmas cake alternatives
"A very good – also traditional – alternative is chocolate log cake, which is far less complicated in terms of ingredients and equally delicious. There are lots of recipes online but you can't go far wrong with Mary Berry! Mary Berry's yule log recipe – BBC Food." (Louise)
"I'm from the South in the US and we never made a Christmas cake. We usually had pecan pie, pumpkin pie, and various cookies. Our family tradition is to make peanut butter kiss cookies, which is a soft peanut butter cookie (usually rolled in sugar before baking) topped with a chocolate Hershey's Kiss." (Ambré)
"I'm from NW Arkansas and love a good pecan pie too! I've yet to find corn syrup in the stores here in Belgium, but I've managed to make fairly decent approximations in past years (the flavor always comes out pretty good, but the filling doesn't set as well), along with yummy pumpkin pies." (Josh)
"I'm from the US and I'd never heard of Christmas cake until I joined this group some years back, but maybe because my background is Sicilian, German and Norwegian – not English." (Lynn)
"I know of nothing called Christmas pudding in the US. The age-old tradition is fruitcake — a horror of a boozy sticky ring cake chock full of fluorescent candied fruit. These days, most folks make Christmas cookies. Often, friends make scads of a single type of cookie and then do an exchange with friends, so they end up with lots of variety." (Sharon).
"In my mixed central/western European family, we don't have a particular dessert for Christmas. My mother tried something different every year. We did (and I still do) usually get a fruit cake or two* but that was (and is) for snacking and nibbling on throughout the later part of the Christmas season, rather than part of the Christmas Day meal. There are lots of jokes about people passing the same fruit cake back and forth for years… but there's good fruit cake and bad fruit cake. I make sure I get the good kind. *Fruit cake: dark, dense dough studded with raisins, candied fruit, and two or three kinds of nuts." (Kathryn)
Recipes
Christmas pudding
Claire Cox kindly shared a recipe from her "ancient Tower slow cooker recipe book in the early 80s". Here is an online version:
Traditional British Christmas Pud by Tower
Christmas cake
Christmas cake recipe by Skye McAlpine. Save it before it disappears! Even better, buy A Table for Friends. And, if you prefer, here is Skye McAlpine's pistachio panettone cake, just as luscious.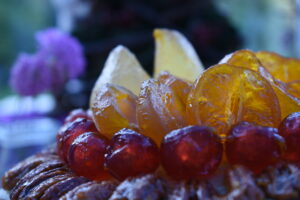 It does cost a fortune with all the glacé fruit and booze (I used Papagayo's spiced organic rum), but it's totally worth it for the wow factor, and for the daily sniffs and stirs while the fruit macerates (2 days). I did invent this step, but surely it should have been in the recipe! What'd you say?
Ingredients
I made some substitutions and it turned out so yummy I'd repeat.
I used rapadura sugar instead of muscovado, but they are quite similar. Read about the

differences between different sugars

.

I used spiced rum instead of brandy.
I used bought marzipan. The book provides no recipe, but next time I'll make my own.
I'd recommend a runny apricot jam for the glaze as mine seemed to be too thick which meant a less glossy finish.
Glazing
It says on my recipe that the cake lasts months without decoration and 2-3 weeks after decorating, but I was worried about the jam glaze, which I thought might go mouldy with the house heating or in the conservatory, whose heating I've turned off for the winter. Here's the experts advice:
"I always use an apricot jam glaze and it's never gone off! By the time you've boiled it up to thicken it, you should have concentrated the sugar content and it will keep." (Claire)
"As a note, we keep the cakes in a cold place – for us, an unheated conservatory. The eggs in the almond paste have never caused a problem and the maturing process enhances the flavours of the cakes." (Gill)
Batter
I found beating the eggs before adding to the cake odd. Generally you add them whole, and I added the last two whole, because the batter seemed to be splitting. Luckily, it all looked normal once the flour was added. So, don't panic if it's your first time making it!
Further reading
Merry Christmas and Happy New Year!
Thank you everyone who contributed by sharing their invaluable first-hand knowledge. You rock!
© Pili Rodríguez Deus – Text and photos
Check out my translation services