Reading Time:
4
minutes
Lulu's brown butter madeleines with buckwheat and chocolate chips
 #ThatTranslatorCanCook 3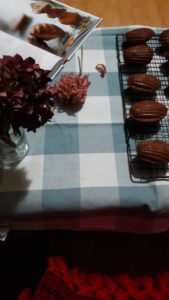 When I like a cookbook, I like to make as many recipes as possible rather than jump around like a butterfly. I'm the same visiting a new city or learning a language: I like to wander discovering all the little corners, speak like a native, not merely get by. Variety is the spice of life, but I like to feel like I master things. Getting to know that place, language or cuisine is like getting to know a good friend. But, having made over a third of the recipes in La Tartine Gourmande, I have started to use its sequel, My French Family Table (MFFT), and that's where this recipe comes from.
What's in a name?
According to the Larousse Gastronomique, a madeleine is:
A small, individual, French sponge cake shaped like a rounded shell, made with sugar, flour, melted butter and eggs, flavoured with lemon or orange-flower water. The mixture is cooked in ribbed oval moulds which give the cakes their shell-like appearance.
Spanish magdalenas are round, not the sculpted scalloped shape of their French cousins, so could we translate madeleines as magdalenas? Could we also translate cupcakes and muffins as magdalenas? After all, they're in the same family. The problem is they are not identical twins. Should we borrow foreign terms as a rule of thumb? There is no short answer.
As discussed by cf. Epstein (2009) or Paradowski (2017, 2018), one of the problems with food terminology is that the same word can be used to designate totally different products in different countries. Such is the case of British and American chips. Therefore, calling madeleines, cupcakes, muffins and magdalenas, all the same would not be unheard of, but is it right?
Another problem is that food terminology evolves. The same as new ones are invented (say duffin), existing terms change connotations. Therefore, for some Spaniards, the term magdalena evokes a different image and feelings to American cupcakes (see Molina, 2012). Fancy equating a plain old-fashioned magdalena with the tarted up cupcake. Although they would appear to be falling out of favour (Ha llegado el fin de la era de los cupcakes, El Pais). Who dares call a muffin magdalena when it's much bigger, crumblier, juicier and trendier?
We have two important issues: marketing and equivalence. Can we ever equate two items that aren't strictly the same? If the texture, shape, size and presentation are different, that's a huge difference even when the basic ingredients are similar.
And, have you ever eaten an English madeleine like these ones from BBC Good Food? That is:
...a small, individual, English sponge cake which is baked in a dariole mould, coated with jam and desiccated coconut and topped with candied cherry and angelica. (Larousse Gastronomique)
Translating madeleine as madalena, or English madeleine as madeleine, might leave readers or customers feeling rather cheated.
The Three Big Sisters: creative, technical and food translation
Creative translation
I like Peltre's storytelling: "She likes to keep her nose pressed up against the oven in the hope of seeing their little bump form".
That little bump will have been named sometime somewhere by someone. The translator could use that existing term, but that bump needs to sound magic, which is why the option I found in El Comidista (copete), would not work as it would be the wrong style.
Descriptions are essential for marketing and for comprehension purposes. They can be crucial to visualising texture or consistency and to selling the recipe, and they tend to be tricky to translate. Take "oozing melted chocolate"; you'll need something different to the oozing wound type.
Technical translation
A technical term in this recipe is brown butter and the verb to brown. Browning vegetables, meat and butter have different translations. In this article about beurre noisette by Gastronomyaycia (in Spanish), you'll find examples of something I discussed in my post about membrillo: how perceptions vary cross-culturally. To some, brown butter smells like hazelnuts; to others, like walnuts, because that is more familiar to them.
The educated technical term is beurre noisette:
To make noisette butter, gently heat some butter in a frying pan until it is golden and gives off a nutty smell. (Larousse Gastronomique)
In my recipe, "Cook over medium heat until slightly golden and with a nutty aroma". Peltre cleverly uses the more colloquial term "brown butter", because her reader is a home cook, not a chef's apprentice. As with other types of translation, register is something a food translator needs to master: translating for beginner cooks and for professional learner cooks are two different kettles of fish.
What's in a magdalena?
What are the differences among magdalenas, muffins and cupcakes? Let's see a few.
In terms of texture, magdalenas are dry, spongy and need an airy batter to reach those peaks.
Muffins, on the other hand, are moist, crumbly and dense. They tend to come filled with fruit jam or studded with chocolate chunks or fruit as these cherry muffins from BBC Food. And they have a mushroomy top, because the batter, barely worked, does not rise much.
Last but not least, we have the elegant cupcake, made of sponge cake butter like these cupcakes from BBC Food. Although, perhaps the prettiest are English madeleines.
Academic references
Epstein, B. J. (2009). What's cooking: Translating Food. Translation Journal, 13(3). Retrieved from http://translationjournal.net/journal/49cooking.htm
Molina, R. (2012, September 28). ¿Por qué lo llaman "cookie" cuando quieren decir galleta? El País. Retrieved from https://smoda.elpais.com/placeres/por-que-lo-llaman-cookie-cuando-quieren-decir-galleta/
Paradowski, M. B. (2018). What's cooking in English culinary texts? Insights from genre corpora for cookbook and menu writers and translators. The Translator, 24(1), 50-69. https://doi.org/10.1080/13556509.2016.1271735
Learn about my translation services
© Pili Rodríguez Deus | All rights reserved.