#RecipeTranslation 3: madeleines
Reading Time:
6
minutes
 #ThatTranslatorCanCook 3 - Lulu's brown butter madeleines with buckwheat and chocolate chips
"Las magdalenas de Lulu, con alforfón, beurre noisette y pepitas de chocolate" 
When I like a cookbook, I like to make as many recipes as possible rather than jump from flower to flower like a butterfly. I'm the same visiting a new city or learning a language: I like to wander discovering all the little corners; I want to speak like a native, not just get by. Variety is definitely the spice of life, but I like to feel like I master things. Getting to know that place, language or cuisine is like getting to know a good friend. But, having made over a third of the recipes in La Tartine Gourmande, I have started to get to know its half-brother, My French Family Table (MFFT), and that's where this recipe comes from. Both books offer gluten free, mainly vegetarian, recipes.
What's in a name?
According to the Larousse Gastronomique, a madeleine is:
A small, individual, French sponge cake shaped like a rounded shell, made with sugar, flour, melted butter and eggs, flavoured with lemon or orange-flower water. The mixture is cooked in ribbed oval moulds which give the cakes their shell-like appearance.
Madeleines have descendants in Spain, but these tend to be round, not that sculpted scalloped shape. Amongst the various versions regarding the origin of French madeleines, one goes that a certain duke visiting a castle was all smitten with a cake made by a peasant named Madeleine.
My question today is: could we translate madeleines as magdalenas? Could we go as far as translating cupcakes and muffins as magdalenas? After all, they're in the same family, aren't they? The problem is they are not exactly identical twins. Should we then borrow foreign terms as a rule of thumb to avoid misnomers? Well, there is no short answer, but the target audience's expectations and the author and publication's marketing strategy will be deciding factors. In my proposed title above, I use magdalenas, because you can only use so many foreign terms together or the reader will be alienated, and there are a fair amount of foreign food terms in Peltre's books. Also, in My French Family Table, given its nature, all recipe titles have subtitles in French so readers can see the original name. I could have used madeleines, but I decided to introduce the term beurre noisette to the reader and explain it in the instructions and a foreign term is enough.
However, one of the problems with food terminology is that the very same word can designate different products in different countries – cf. Epstein (2009) or Paradowski (2017, 2018). Such is the case of British and American chips and, as we'll see, an English madeleine, a French madeleine and a Spanish magdalena are from different planets.
Another problem is that food terminology evolves. The same as new ones are invented for new creations -say duffin- existing terms change connotations. That's why, for some Spaniards, the term magdalena evokes a different image and feelings to, say, American cupcakes (see Molina, 2012). Fancy equating a plain old-fashioned magdalena with the trendy tarted up cupcake buried in icing and frills? Although they would appear to be falling out of favour (El Pais). And who dares call a muffin magdalena when it's much bigger, crumblier, juicier and trendier?
So, we have two big issues: marketing and equivalence. Can we ever equate two items that aren't strictly the same? If the texture, shape, size and presentation are different, that's a hell of a difference even when the basic ingredients are similar, which leads us to the fact that, in food translation, you will constantly have to be filling cultural gaps.
But... have you ever eaten an English madeleine? I don't think I have, but then patisseries  are few and far between where I live. An English madeleine is:
...a small, individual, English sponge cake which is baked in a dariole mould, coated with jam and desiccated coconut and topped with candied cherry and angelica. (Larousse Gastronomique)
La voilà! It's linked to Mary Berry's recipe.
Translating madeleine as madalena -or English madeleine as madeleine as you can see- might leave readers or customers feeling rather cheated, if they don't have a picture, which is not the case with my recipe. But it also depends on the aim of your paragraph or sentence: a recipe title is not quite the same as an explanation in a paragraph.
Do I want to make my food sound sexy and exciting or cosy and comforting, to name a few options? That is something restaurants will be asking themselves and I have a portfolio of translated texts in this field that I am happy to show to customers.
The Three Big Sisters: creative, technical and food translation
Creative translation
The recipe name was already a good example of technical and marketing translation decisions. Apart from that, each cookbook writer will have their personal style, and I've said before that I like Peltre's storytelling:
"She likes to keep her nose pressed up against the oven in the hope of seeing their little bump form".
That little bump will have been named somewhere. The translator could use that existing term, were it being used technically, but, here it's all about storytelling and that bump needs to sound magic, which is why the option I found in El Comidista (copete), would be the wrong tone.
Descriptions are indeed essential both for marketing and for comprehension purposes. The marketing type can be overused and the technical type is sometimes underused. They can be crucial to visualising texture or consistency, and to selling the recipe. And they tend to be tricky to translate as is the case with 'oozing melted chocolate'. No dictionary will provide an adequate translation, but a creative appetising solution is needed, not the oozing wound type.
Technical translation
An interesting technical term in this recipe is brown butter and the corresponding verb to brown. Browning vegetables, meat and butter have different purposes, even if all colour-related, and they have different translations. In this article (in Spanish) as well as descriptions of brown butter, you'll find examples of something discussed in my previous post: how perceptions vary cross-culturally. To some, brown butter smells like hazelnuts; to Spanish people, probably like walnuts -because that is probably the more familiar nut to us. The educated technical term for brown butter is beurre noisette:
To make noisette butter, gently heat some butter in a frying pan until it is golden and gives off a nutty smell. (Larousse Gastronomique)
In my recipe, "Cook over medium heat until slightly golden and with a nutty aroma". Peltre cleverly uses the more colloquial term given that her reader is not a chef's apprentice but a home cook. As with other types of translation, register is something a food translator needs to master: translating for beginner cooks, for foodies and for a cookery course -to give some examples- are different kettles of fish. As a lifelong cook's apprentice, I was unsure how long the butter would take to brown. The author describes the colour and the smell to look for and, judging by the heavenly perfume coming out of the oven, her description was perfect.
What's in a magdalena?
I described French madeleines, but what are the differences among magdalenas, muffins and cupcakes? Let's see a few.
In terms of texture, magdalenas are dry, spongy and need an airy batter to reach those peaks you see above.
Muffins, on the other hand, are very crumbly, moist and compact. They tend to come injected with jam or studded with chocolate chunks or fruit as in the picture above. And they have a mushroomy top, because the batter, hardly worked, does not rise much. Which is why, I guess, in English, a mushroom top colloquially means an bulging belly. Maybe we should import it: ¡Qué madalena, Juan! Though language is sexist, and most often I have seen this English term used for women.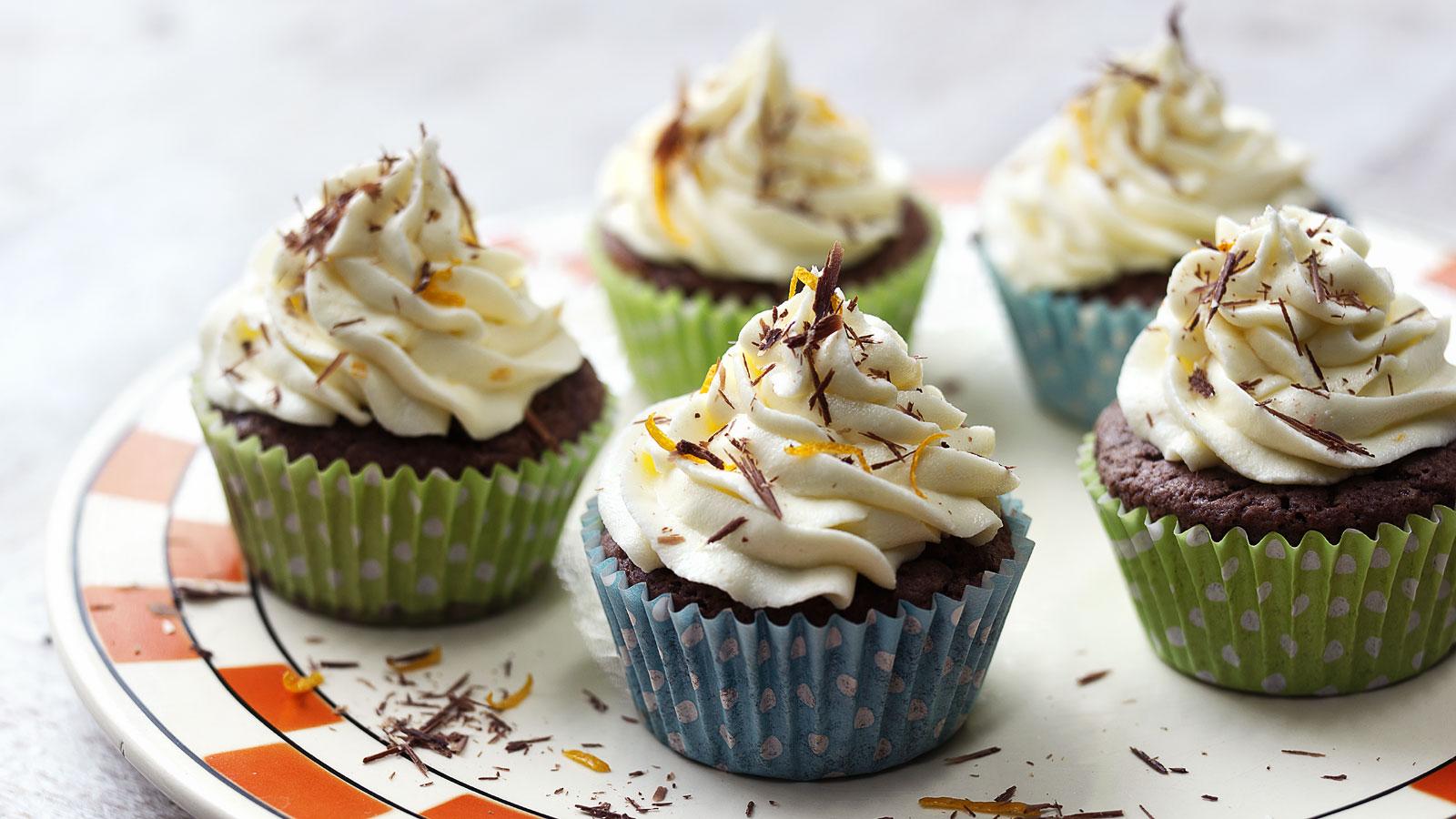 Last but not least, we have the elegant cupcake, made of sponge cake butter. Although perhaps the prettiest are English madeleines. Para gustos hay colores, as we Spaniards say. I must make them one day.
Cooking
This was uneventful apart from the fact that the author does not provide fan oven temperatures, although she helpfully gives both Fahrenheit and Centigrade equivalences. A cook in my good books!  I started them at 200C instead of 215, just in case, but it seems I should have followed the instructions.  I had to put them back in and 5 minutes was just a little too long. The upside was that they kept much better and I enjoyed them slowly for many days.
ACADEMIC REFERENCES
Epstein, B. J. (2009). What's cooking: Translating Food. Translation Journal, 13(3). Retrieved from http://translationjournal.net/journal/49cooking.htm
Molina, R. (2012, September 28). ¿Por qué lo llaman "cookie" cuando quieren decir galleta? El País. Retrieved from https://smoda.elpais.com/placeres/por-que-lo-llaman-cookie-cuando-quieren-decir-galleta/
Paradowski, M. B. (2018). What's cooking in English culinary texts? Insights from genre corpora for cookbook and menu writers and translators. The Translator, 24(1), 50-69. https://doi.org/10.1080/13556509.2016.1271735
OTHER REFERENCES
• English madeleines. https://www.bbcgoodfood.com/recipes/english-madeleines
• French madeleines gluten free recipe. https://www.latartinegourmande.com/2007/02/12/an-urge-to-bake-madeleines-un-desir-effrene-de-faire-des-madeleines/
• G&Cía. (2009, August 14). Madalenas, muffins y cupcakes. Retrieved from https://gastronomiaycia.republica.com/2009/08/14/magdalenas-muffins-y-cupcakes/
• Spanish magdalenas. https://elcomidista.elpais.com/elcomidista/2016/04/14/receta/1460639256_878979.html
• Variole mould. https://www.bakingfrenzy.com/dariole-mould-set-6-pcs-for-english-madeleine-p-119.html
NEXT TIME....
I might discuss the language of cookbooks.
© Pili Rodríguez Deus | All rights reserved.