Reading Time:
5
minutes
Thyme-flavoured turnip tatin
You have tried Tarte Tatin, but have you had a savoury one? If you're reading this, chances are you have, but a turnip Tatin? I promise: it's delicious. While I can't copy the recipe from my cookbook, a gluten free cherry tomato option by the same author is found here.  And a parsnip option from Country Living here.
According to data from Statista.com, over 81.5 thousand tonnes of turnips were produced in Spain in 2018, but... do we eat them? I don't think so. Soycomocomo.es insists that turnips are a forgotten root we should warm to given its low calorie and high nutritional content: it's rich in vitamins C, B9 (aka folic acid), A and calcium. It was, in fact, a staple in European diets until the introduction of potatoes. Blame the Spanish!
Meanwhile, cultural eating habits vary and, in Galicia, the Spanish region I come from, we cherish the young green tops (called grelos) and feed the root... to the pigs! These priced grelos have an IGP (Protected Geographical Indication) and feature in one of our traditional winter dishes, caldo gallego (Galician soup). In contrast to the priced bitter taste of grelos, the roots have a sweet taste, milder than that of kohlrabi, another delicious root I discovered thanks to my organic food provider. Here is a recipe for caldo gallego, from BBC Goodfood.
Cooking
INGREDIENTS
Rustic crust with teff flour
Even though I've made half the recipes in her first book and many in her second, I'll admit I've generally been avoiding Peltre's tarts. That may have ended. The French seem to love tarts and tartlets; which, in fairness, are a great option for hosting and picnics alike. Pretty tartlets look the part, and tarts can be cut into handy individual portions for picnics. While I haven't found the pizzazz in pizza, I very much enjoy a tasty tart with a zesty salad yet... add to that the complexities of gluten free baking and you'll have me abandoning the idea on the day. No longer after this crust. I even substituted the teff flour (the recipe uses a mixture of teff, millet and buckwheat) successfully.
Having been baking gluten free cakes, madeleines, crêpes, etc. in the past few months, my first guess was quinoa; as it tends to be a bit bitter, it is probably best for savoury crusts. I decided to research it and found this great website: https://simplygluten-free.com/substitutions. You scroll down to "gluten free flour substitutions" to find a useful chart that lists the properties of each flour. Teff is high in protein and in fiber. In the chart, you can see that quinoa, buckwheat and amaranth have the same properties, all of which I had in stock. I opted for quinoa as I have some past the best-by date that I'm trying to use up.
The crust was a real success though, when it came out of the fridge, I rather anticipated the contrary: it had turned hard like a brick and stuck like Superglue to the Pyrex dish. The recipe did say, Pili, to wait for 10 minutes until it reaches room temperature. And I did, but a bit longer wouldn't have harmed anyone. I wondered how it would roll. Read on.
Flax gel
The recipe calls for flax gel, which acts as a binder and makes the pastry easy to roll. I forgot to grind my seeds before soaking them in hot water for 15 minutes. It still worked. That's how easy it is to make flax gel and it works like a charm: the pastry did not stick to the rolling pin and, when a bit broke off, you could paste it together like a dream. I did use the pastry mat to transport it to the pie dish, which I recommend doing.
Clover honey
I did not have any at hand so I used a Spanish chestnut honey bought from Souschef; delicious on toast, but used sparingly here, because it's a bit strong. Although it did produce a pretty caramelised tatin. The proof is in the picture.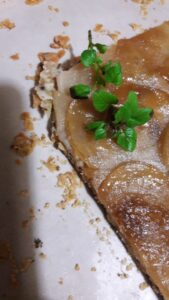 UTENSILS
Stand-mixer, paddle blade. One of the difficulties with cookbooks is having all the equipment. When asked to combine the flours and other dry ingredients in the bowl of "a stand mixer fitted with the paddle blade", I found myself wondering which of the two ancient gadgets I have would do the trick. I'd love a KitchenAid, but I have a small kitchen. I remember using one of them before and seeing how the dough detaches from the bowl and forms a ball when it's ready, but I could not remember which implement I had used. What I have is a blender not a stand mixer, something like this Bosh set. I used the part with the long blade, after wondering between that and the one with the short one. The engine got pretty hot: maybe it's time for a KitchenAid! Thankfully, it worked.
28cm tart mold
Peltre has done the Imperial to metric measure conversions: that wasn't my problem; the problem was my flan or pie dish was smaller. So, I chose a ceramic Sargadelos dish that my 90-year-old auntie passed down to me, worried that ceramic would yield a doughy pastry that hasn't been able to breath. Not this time, probably because the crust goes on top. Whether it was the porosity of the Sargadelos ceramic or the nature of the tatin what did the trick, I do not know.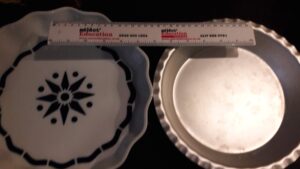 Most importantly, the tatin was delicious. The turnips caramelised like a dream, were soft and buttery and the pastry was to die for: buttery, flaky, crusty but not too hard. The thyme notes came through more in the cold leftovers: I had the two slices left for brunch the day after and enjoyed every mouthful.
Translation
Substitutions
I've already discussed the flour substitution. As for the honey, you need to consider the taste and looks of possible candidates or it could be left to the reader to use their favourite. If you describe the honey in question, they can choose for themselves. Clover honey has a sweet mild floral taste. But is it produced in Spain?
At the end you'll find an article about the ten best honeys in Spain - notice how a Galician honey takes second place. There are a few multi-floral honeys listed, but clover is nowhere to be seen. The others listed are, in order: coriander, eucalyptus, chestnut, "strawberry bush" or madroño, orange blossom, and heather. I hadn't heard of coriander honey. Unsurprisingly, the article explains how it is sought-after because of its production being very low. Below are my on-the-go translations of the descriptions of these favourite Spanish honeys.
Honey is not something I have translated about yet. Also, I usually translate into Spanish. But it sounds like a product I would love to translate about, given the wonderful descriptions.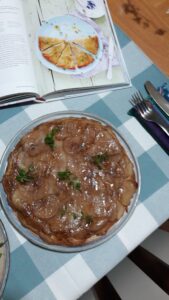 Over to you, which one would you substitute for clover honey? Let me know! 
References
About honey
About turnips
Learn about my translation services